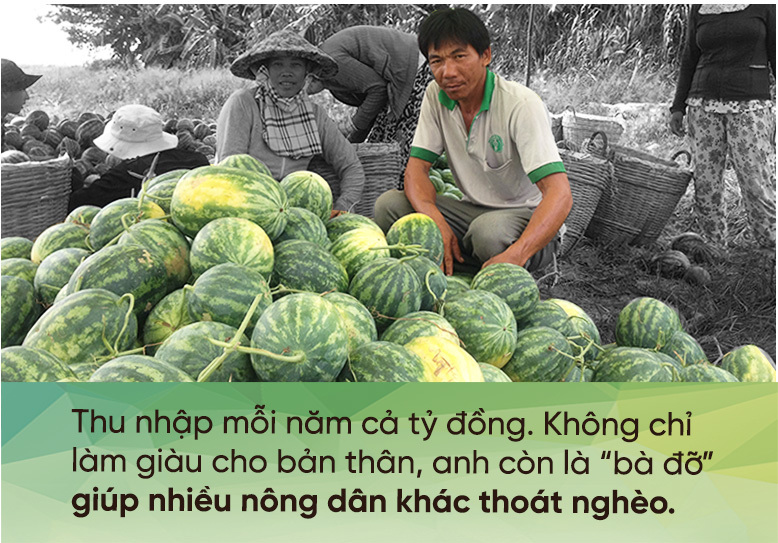 Collect billions every year
Tran Cong Danh's family has only worked in the field for many generations. Thanks to his thrift and labor, he knew how to accumulate, so in 1986, he bought a tiller and a plucking machine to serve the people in the commune and neighboring districts. In addition, he also went to the provinces of An Giang, Kien Giang, Hau Giang … to hire to earn extra income.
"Working really hard but in return, the family economy is quite good," Mr. Danh told PV. VietNamNet. After many years of saving, from the initial 1ha of land, Mr. Danh bought nearly 5ha of the land, bringing the total cultivated area of ​​the family up to 6ha.
"At that time, I only knew how to cling to cultivate rice 3 crops / year. But the land became increasingly infertile, the productivity decreased, so the family income was not stable. In many places, people rotated" 2 rice – 1 color " ", Especially bringing watermelon plants to fields with high economic efficiency as well as helping to improve soil fertility, so I decided to follow," Mr. Danh said.
"In 2000, I planted 3 lions of watermelon on rice fields with different fertilizer and medicine regimes. When harvesting, I select the highest yield melon, taking that formula to apply massively for the following crops, "Mr. Danh added.
After harvesting the winter-spring rice crop, instead of continuing to sow the spring-summer crop, Danh has planted 1.3 hectares of watermelons.
Before preparing the soil, he let the combine harvester cut the rice root closely. Which parcel of land was large, he divided ditches to dig water courses to store water for irrigation in the dry season and rainwater drainage; and then come up. Cover the layer with straw and then sow the seeds.
When the seedlings were 5-7 days old, he started fertilizing, 10-12 days fertilizing the root and then continuing until the melon went into fruit.
In particular, he always adheres to the isolation time of fertilizers and medicines about 7 days before harvesting to ensure the quality of melons.
Mr. Danh shared that, planting melons for about 55 days is harvest, while rice takes up to 90 days. In addition, planting melon gives very high productivity, more than 3 tons / work or more, there are five crops hit 4.5 tons / work, the price is 3,000-7,000 VND / kg, 3-5 times more effective than rice. .
Especially since 2018, the weather is unusual, so he invested to switch to growing watermelons using mulch. This model has a high investment cost but is also more effective than conventional planting. Accordingly, the melon crop in 2018 and early 2019 gives very high yields.
"The harvest is complete, thanks to the drying time of the soil, the leftover manure and the decomposed melon will return a significant amount of organic matter to the soil. If 3 crops of rice are grown, each crop must be fertilized with 50 kg of fertilizer. 2 rice – 1 watermelon, just 30kg but rice yield is higher, "Mr. Danh shared.
With the spirit of eagerness to learn, from the day of rotating rice-crop rotation, Mr. Danh regularly participates in technical transfer classes, field workshops, visits to many production models, and learn many techniques for rice production. – Better colors.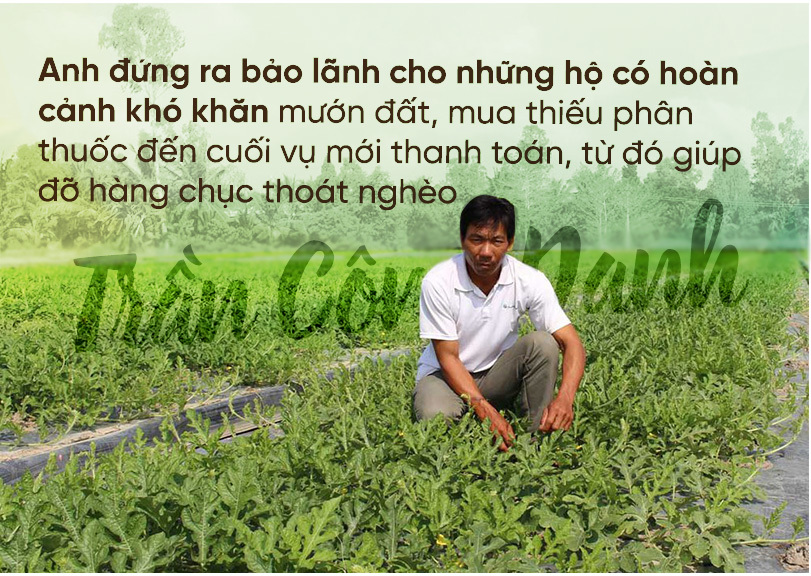 "Midwives" of the poor
Thanks to the 2-crop-1-crop rotation model, Mr. Danh's family rose to the rich, each year earning more than 1 billion dong. Many people in the commune saw that his model was effective and came to learn experience and he was guided enthusiastically.
In order to facilitate the support of the people, in 2015, he and the communal Farmers Association members set up a cooperative group "2 rice – 1 crop", including 33 members (now 37 members), with a total area of more than 42ha, because he is the leader.
Since its establishment, Mr. Danh has organized many training courses on transferring science and technology, guiding members to bring crops into the field.
In addition to technical support for rice-melon rotation, he also sponsored households with difficult circumstances to rent land, buy fertilizer in the end of the new crop, and help dozens of members escape poverty. firm.
Mr. Tran Van Trung, Phuoc Thoi 1 hamlet, said: "Previously, my family belonged to a poor household with a book, dilapidated house, no land for cultivation, and lived on raising ducks. In 2015, I ventured to ask Mr. Danh for help and he sponsored the land lease, bought seeds and medicine for rice cultivation and watermelon cultivation. After 3 years, my family escaped from poverty, built a new house and bought 5 more farm land. "
In addition, there are many people who are helped by Mr. Danh to get out of poverty and increase income for his family.
Ms. Tran Thi Thien Thu, Vice Chairman of Farmers Union City. Can Tho, said: "What is valuable and respectable in Mr. Danh is the spirit of solidarity, helping others, sharing experiences, watching the difficulties of farmers, especially members of the group such as is my difficulty so always enthusiastically help ".
With the achievements, Mr. Danh was honored to receive a certificate of merit from the City People's Committee. Can Tho for its outstanding achievements in implementing the Politburo's Directive 03-CT / TW on continuing to promote learning and follow Ho Chi Minh's moral example (period 2011-016). He also awarded the Certificate of Merit from the Vietnam Farmers Association for his outstanding achievements in the patriotic emulation movement (period 2010-2015).
In 2017, he received the certificate of achieving the title of Central Good Agricultural Production and Business Farmer Household (2012-2016 period).
In 2018, receiving the Certificate of Merit from the Central Vietnam Farmers Association: for having excellent achievements in the movement of farmers emulating good production and business (period 2012-2017).
In 2019, Danh was voted as one of the 63 typical farmer farmers nationwide in 2018.
Thanh Sang